Why Human-centered Design?
Michael Maness, Harvard Business School, Sparked Lively Conversation at Tang Institute
The Tang Institute recently hosted a Lunch & Discussion session with Michael Maness, Innovator in Residence of the Digital Initiative at Harvard Business School. The event, which took place on Thursday, October 29, opened with a presentation by Maness on how design-thinking can be put to use in education. Participants, who were encouraged to read the below "Suggested Resources" in advance of the session, then joined in conversation with Maness on a variety of thought-provoking topics related to design thinking.   
Human-centered design is a creative approach to problem solving and innovation that starts with the people you're designing for and ends with new solutions that are tailor made to suit their needs, according to IDEO.org (the design-thinking firm that pioneered the concept). "The enemy of innovation is often ego," Maness has said. Design thinking, on the other hand, is all about considering other people and helping to meet their needs.
HCD is a widely adopted strategy in product development, with inventions like Apple's first mouse and standup toothpaste serving as successful examples of work in this area. In addition to being useful in industry, HCD has become a prominent tool for educators, activists, and other practitioners across a range of contexts, including the design and development of curriculum, learning environments, programs and experiences, and even policies.  
Human-centered Design in Education
Many educators are embracing HCD as a compelling framework through which to teach students about how to develop meaningful solutions to issues, questions, and problems in their classroom, their schools, and the communities that surround them. Projects range in size and
scope, from efforts to reimagine curriculum or classroom spaces, to opportunities to evaluate and design broader educational and pedagogical processes and systems.
First and foremost, HCD is a process grounded in empathy: it starts with listening, learning, and capturing the
deep narrative people carry with them, in their day-to-day human experiences. These stories are then synthesized into insights; and, from these insights, opportunities and solutions are brainstormed, prototyped, and iterated upon. The best solutions grow out of a collaborative, creative effort aimed at identifying and responding to the needs of users.
Human-centered Design at Andover
The design-thinking approach presents great value from a teaching and learning standpoint. Many PA faculty members use HCD in some form in their classrooms and projects. Others have expressed an interest in learning more about the framework and its potential application to a variety of activities. The approach aligns with the institutional goals set forth in Andover's strategic pillars of empathy, creativity, and innovation. It also offers an exciting opportunity to engage teachers and students in learning and applying a framework—and developing a skillset—that they can use and carry with them across diverse disciplines and activities, both at PA and beyond. Given its broad applicability, design thinking could be an important catalyst to realize these strategic goals.   
One example of how PA students are involved in design-thinking is through the Niswarth Program, a Learning in the World summer service-learning program in India led by Program Director and Instructor in Biology Raj Mundra. In 2015, together with the Institute, Mundra welcomed educator and innovator Kiran Sethi to campus during the Design For Change Conference. Sethi is the founder of the Riverside School in Ahmedabad, India, and the visionary behind Design for Change, a global movement empowering teens to become change-makers and create solutions for problems within their own communities. Every year, Niswarth student participants visit Sethi'
s Riverside School, which functions as both a school and vibrant research center for cutting-edge education and teaching methods. Most recently, Andover and Exeter students collaborated with Riverside students to complete a Design for Change project. Together, they visited local schools, identifying strengths and weaknesses of each institution.
About Michael Maness
Michael Maness is the Innovator in Residence at the Harvard Business School's Digital Initiative. Michael was previously the VP of Journalism and Media Innovation at the John S. And James L. Knight Foundation. Prior to his work at Knight, he was vice president of innovation and design at Gannett and USA Today, the largest publisher in the US and a Fortune 300 company. During his tenure, he led the creation of an innovation process based on human-centered design and launched multiple new brands. He also served as vice president of strategic planning for Gannett's newspaper division, launched several local news sites across the company, and developed the industry's first daily video newscast on the Web done without a television partner.
In addition, Maness was named to the Newspaper Association of America's list of "20 under 40" and was a co-winner in 2007 of the Chairman's Special Achievement Award at Gannett.
Before joining Gannett, Maness was an analyst and media consultant, a campaign manager and a marketing account executive. He is a graduate of Northwestern University. Maness has been a member of Knight Foundation's journalism advisory committee for the past four years.
Suggested Resources
Articles
---
Other Resources
---
Organizations
What is Human-centered Design? by IDEO (2 minute video)
Books
Change by Design by Tim Brown 
Read more about the book, written by the CEO of IDEO, here.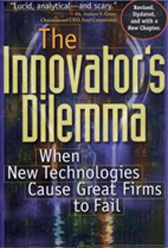 The Innovator's Dilemma: When New Technologies Cause Great Firms to Fail by Clayton Christensen
Read more about the book here.
Accelerate: Building Strategic Agility for a Faster-Moving World by John P. Kotter
Read a book review, "John Kotter's Plan to Accelerate Your Business," here.
Learn more about the book here.
Disrupting Class: How Disruptive Innovation Will Change the Way the World Learns by Clayton Christensen
Check out this book on Amazon.